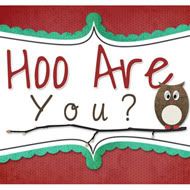 1. What are some of your pet peeves?
Milk that is left out, loud chewing...um...I can't think of any other than that. I'm not a very picky person.
2. Do you have a favorite or lucky number?
I have always liked the number 14. There is no good reason for that. It's just a pretty number.
3. What is one of your family traditions?
Something my husband and I have just started recently is to have a First Day of Spring party. We have good food and decorate the house to welcome spring.
4. Is there anything you are OC about?
Haha! There are plenty of things I am OC about. I really like plan out my schedule (hour by hour). Before I fall asleep, the blankets have to be just right and my hands can't be covered up. I try to be very organized, but that is mostly in my head.
5. What is your favorite kind of food?
Easy...chocolate! Brownies especially.
Head over to
Night Owl Crafting
to link up!